[my Emilia Romagna #6] La Nove Colli
|
---
[my Emilia Romagna #6] La Nove Colli
---
Estimated reading time: 9 minutes
It's still dark outside when I get out of the hotel with my bicycle. Cesenatico is still sleeping. A lot of cyclists with their "fireballs" are going out of the hotels. There is a special atmosphere in the sky that is now coloured with the first lights of the sunrise. You can feel that something important is going to begin: the Granfondo Internazionale of Cesenatico Fausto Coppi, also called the Nove Colli (the nine hills), with 13000 participants coming from Italy and all over the world.
At the start.
An helicopter is flying over our heads, and there is a lot of clamour. I'm in the white row, the starting row of the cyclers which finished the last edition under 8 hours and 30 minutes, together with other cyclers all dressed with their team suit. But there are also cyclers with a "neutral" suit, like me: tourists and that know just a couple of words in Italian. The music that comes out of the loudspeakers is now stopped by the countdown and the strain is growing.
Only a minute left. A last sip from the water bottle and it's time to start cycling along the beautiful channel designed by Leonardo da Vinci with its ancient boats. The pace is still calm and the pedal is soft, but when you reach the white start lane under the Adriatica highway the race begins.
I promised myself not to start fast at the beginning, but to find a group where till the first hill the pace is moderate, in order to have still energies to climb the 9 hills. But this is not possible, since all cyclers start as fast as they can, as the race would last only 10 km. I was not able to follow them, though my tachometer was showing 45 km/h and the road was not downhill! You can see that everyone wants to lead the group. Since I have imagined that at the first roundabout there would have been a general slowing down, I kept cycling on the right of the road. From last year's edition I have learned that at the first hill I will see again and pass many of them that I was seeing cycling fast now. In the Alps, where I often go cycling, the mountains are higher and the uphill slopes harder.
Taking part at a race like this, full of cyclers, in Germany would be impossible. Here in the Emilia Romagna region every cycler, regular or occasional, knows how to behave during events like this.
Although high-speed, the atmosphere is typical Italian and the voices of the group are still loud. Along the road you can find many people encouraging and yelling to the cyclers, they do not care if its early morning. I enjoy this part of the day that is only at the beginning and I watch fascinated the panorama in front of me.
I'm euphoric and full of adrenaline, time flies so fast that I already have reached the first refreshment stand. On the square I do not need to stop, but as I learned last year, it is more important to stop at stands like this, rather than arrive 5 minutes earlier at the arrival. The refreshment stands are one of the highlights of the Nove Colli race. Here you can find everything concerning Italian food: pizza, homemade cakes, parma ham or mortadella sandwiches, fruit, parmigiano reggiano cheese and a good espresso.
In one of the uphill slopes there is as well a barbecue, where you can find sausages and grilled steak. Here you have also the chance to drink a glass of red wine, by hearsay…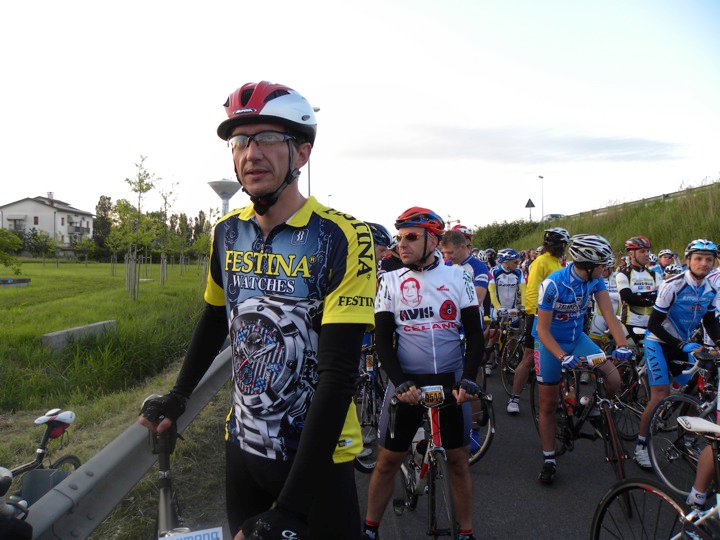 At the third uphill slope it would be impossible for me to continue cycling after having eaten so much food, and for this reasons I have decided not to stop at this stand, also because the fourth uphill slope is the Barbotto Pass. 4.5 km long and with a gradient of 18% this uphill slope is another highlight of this race after 90 km. Here you will find the majority of people along the road that encourage the cyclers, and it kind seems to be at the Giro d'Italia or at the Tour de France. At the end of this challenging uphill slope on my "Barbotto CV" you will read 24 minutes and 40 seconds. When you get at the top of the hill the enthusiasm of the spectators is so big that every cycler has the feeling to be the winner of the competition. But, there are still 110 km to go.
Around midday the temperature is rising and the water bottle becomes empty fast. But there is no need to bring big water reserves with you, since along the road you will find a lot of people filling your bottle for free with the hose of their gardens. And here in the hills the water tastes fantastic, and is ten times better then many bottled waters. The group has now become more silent. The speeches are now just a few words, and from the initial hectic now there is nothing to hear, but everyone is pleased and enjoys the race.
I do not want to be seen as the one that thinks only at the food, but my favourite refreshing point is the one located in the piazza of Perticara. Here not only the food is fantastic, but the view is amazing.
Yes the landscape. Although your legs feel heavier after every hill, you can not wait to get to the next bend in order to admire the landscape.
Hill after hill you keep cycling. Another important highlight of the race and concerning the landscape is San Leo. An amazing view and the long downhill slope make you forget the pains of the uphill slopes of the morning.
After 170 km the course is most of all downhill and in the distance you can notice the skyscraper of Cesenatico, where you will find the arrival of the race. And here it is, the arrival, plenty of spectators that make you feel as the winner of the race. I feel like that. I cycled for 8 hours and 3 minutes. I was 30 minutes faster than last year.
But now it is time for a dish of pasta and a pint of cold beer. And as last year I can say that after 8 hours spent on the bike I am not hungry. I can not believe it, I ate to much at the refreshing stands along the road and I have to quit this tasty dish of pasta at the arrival. No problem. I continue to enjoy the atmosphere at the arrival and then it is time to go at the beach to relax, and because there is a table reserved at the Pizzeria to celebrate my race result together with my family. – Bella Italia
And when here in Germany in November there was a cold and foggy weather, I enrolled myself for the next edition the day after the website opened the 2012 registration. Now, during this cold training days I can already dream of the upcoming Nove Colli edition.
—
Original German version
Die Nove Colli
Die Fahrt zum Start im Halbdunkel es wird langsam hell. Cesenatico schläft. Nur aus den Hotels schieben einzelne Fahrer ihre Rennmaschinen. Eine ganz besondere Atmosphäre die einen ahnen lässt, dass einen ein besonderes Erlebnis erwartet. Der Granfondo internationale Cesenatico Fausto Coppi oder NoveColli mit 13 000 Teilnehmern aus Italien und der ganzen Welt.
Am Start.
Ein Hubschrauber kreist, Stimmengewirr. Dort wo ich mich befinde im weißen Startblock der Fahrer die beim letzten NoveColli schneller als 8 Stunden und 30 Minuten waren, stilsichere italienische Radrennfahrer in ihren Vereinstrikots. Nur vereinzelt durchsetzt mit Fahrern wie mich in neutraler Rennkleidung, die sofort als Tourist auffallen, der sich auch durch mangelnde Sprachkenntnisse auszeichnet. Die laute Musik des Veranstalters wird nur durch den Countdown unterbrochen der die Nervosität noch steigert.
Noch eine Minute. Ein letzter Schluck aus der Flasche, aufsitzen, dann geht es los. Den von Michelangelo gebauten Kanal entlang, vorbei an den wundervollenvollen alten Fischerbooten. Bis zur wenige hundert Meter entfernten Startlinie unter der Adriatica hindurch noch ganz gemütlich, aber mit der Überfahrt der Startlinie beginnt das Rennen.
Ich habe mir vorgenommen mir am Anfang meine Kräfte einzuteilen und die Anfangshatz nicht mitzufahren, sondern mir eine Gruppe zu suchen in der ich schön im Windschatten bis zum ersten Anstieg mitschwimmen kann. Doch das ist nicht möglich das gesamte Feld legt los als ob das Rennen nach 10km vorbei ist. Es rast links und rechts an mir vorbei obwohl mein Tacho 45 km/h und mehr zeigt. Dabei geht es nicht einmal bergab. Jeder will anscheinend das Feld anführen. Gerade in dem Wissen, dass es spätestens am ersten Kreisverkehr zu einer Vollbremsung des Feldes kommen wird halte ich mich trotzdem raus, verzichte lieber auf den Windschatten und halte mich immer schön rechts. Aus dem letzten Jahr weiß ich auch, dass ich viele an einem der Anstiege wieder sehen und hinter mir lassen werde. In den Alpen – meinem Revier – sind die Berge halt doch höher.
Hier in Italien zu fahren ist mit einem Jedermannrennen bei uns nicht zu vergleichen. Hier in der Emilia Romagna weiß jeder wie man sich in einem Feld zu verhalten hat und welche Zeichen vor Hindernissen und Richtungsänderungen zu geben sind. Bald weiß ich auch wieder was zu tun und zu sagen ist. Dabei ist trotz allem Tempo in dem das Feld dahin jagt die Stimmung italienisch fröhlich und laut. Jedem Bekannten wird hinterher gerufen er wird angefeuert und auch schon zu dieser frühen Stunde am Sonntag jubeln uns zahlreiche Zuschauer vom Straßenrand zu.
Also genieße ich die Stimmung des jungen Tages, die wundervolle Landschaft vor mir die mich erwartet und bewundere die vielen Rennfahrer mit ihren tollen Maschinen die mit mir das Rennen bestreiten.
Ich bin so euphorisch und voller Endorphine, dass ich gar nicht merke wie die Zeit vergeht, als ich schon zur ersten Verpflegungsstelle komme. Eigentlich will ich noch gar nicht anhalten, aber aus dem letzten Jahr weiß ich, es ist viel wichtiger die Köstlichkeiten an den Verpflegungsstellen zu probieren, als 5 Minuten schneller am Ziel zu sein. Die Verpflegungsstellen sind ein weiteres Highlight des Nove Colli.
Organisiert von verschiedenen Institutionen der Region versuchen sie sich gegenseitig mit ihren Spezialitäten zu überbieten. Hier gibt es alles an Essen und Trinken was Italien zu bieten hat. Minipizza, selbst gebackene Kuchen, Semmeln mit Schinken, Obst, Parmesan und einen hervorragenden Espresso. An einem Anstieg ist sogar ein Grill aufgebaut an dem die Fahrer mit Grillwürsten und –fleisch versorgt werden. Dass es dort auch Rotwein gibt weiß ich nur vom hören sagen. Am dritten Anstieg kann ich mir nicht mehr vorstellen, dass es mir nach einer solchen Brotzeit wieder möglich ist Fahrrad zu fahren und lasse diese Versuchung rechts liegen.
Dann an der 4. Steigung ist es soweit. Er ist da – der Barbotto. 4,5 km lang und bis zu 18% steil. Das Highlight der Strecke nach etwa 90 Kilometern. Hier sind auch die meisten Zuschauer die uns anfeuern wie ich es nur aus dem TV von Bergetappen der Tour de France kenne. Hier muss ich öfter mal aus dem Sattel um im Wiegetritt weiter zu fahren. Am Ende werden auf meiner Urkunde für den Barbotto 24 Min und 40 Sekunden stehen. Oben angekommen ist der Jubel der Zuschauer schon so groß als wäre es eine Bergankunft und jeder Fahrer wird vom Streckensprecher angekündigt wie ein Sieger. Dabei habe ich noch über 110 km vor mir.
Gegen Mittag wird es immer wärmer und die Trinkflasche wird immer schneller leer. Aber große Vorräte braucht man sich nicht anzulegen. Auch zwischen den Wasserstellen stehen immer wieder Anwohner die den durstigen Radlern ihre Trinkflasche mit dem Gartenschlauch nachfüllen. Und hier in den Hügeln schmeckt das Wasser aus der Leitung besser als so manches Mineralwasser.
Im Feld ist es inzwischen ruhiger geworden. Die Gespräche beschränken sich auf ein paar knappe Worte. Von der Hektik der Startphase ist nichts mehr zu spüren. Aber jeder ist gut gelaunt und genießt es die Herausforderung zu bewältigen.
Ich will ja eigentlich nicht nur vom Essen schwärmen, aber meine Lieblingsstelle ist die Ristoro auf dem Dorfplatz von Perticara. Hier gibt es nicht nur sensationelle Verpflegung sondern auch einen wunderschönen Ausblick in die Umgebung.
Ja die Landschaft. Obwohl die Beine natürlich Hügel für Hügel schwerer werden ist es auf dieser Strecke, in dieser Landschaft und bei diesem wundervollen Wetter so schön, dass ich mich vor jeder Kurve auf das freue was mich dahinter an Eindrücken erwartet.
Hügel um Hügel geht es weiter. Ein optischer und fahrerischer Höhepunkt ist natürlich noch San Leo. Eine fantastische Aussicht erleichtert die Strapazen des Anstiegs, die auch durch die rasante Abfahrt vergessen gemacht werden.
Nach gut 170 Kilometern ist es dann soweit. Es geht endlich nur noch bergab und in der Ferne ist schon das Hochhaus von Cesenatico zu sehen wo sich der Zielbereich befindet. Jetzt heißt es nur noch eine gut rollende Gruppe zu finden, die einem Windschatten für die letzten 30 Kilometer gibt. Dann ist sie da. Die profimäßig abgegitterte Zielgerade gesäumt von vielen Zuschauern die jedem das Gefühl geben ein Sieger zu sein. Auch ich fühle mich so. Ich habe 8 Stunden und 3 Minuten auf der Uhr stehen. Fast eine halbe Stunde als im letzten Jahr.
Jetzt gleich ab zur Pastaparty und zum wohlverdienten Bier vom Fass. Und wie im Vorjahr stelle ich fest, ich habe nach 8 Stunden im Sattel gar keinen Hunger. Ich fasse es nicht, ich habe mich an der Verpflegung unterwegs satt gegessen und muss die leckere Pasta im Ziel stehen lassen.
Aber das macht nichts. Jetzt noch ein bisschen die Atmosphäre im Zielbereich genießen und dann schön gemütlich zum Strand gehen, um in der warmen Sonne und im Mare die müden Knochen zu regenerieren. Schließlich ist für den Abend schon der Tisch in der Pizzeria reserviert um den Erfolg mit meinen Lieben gebührend zu feiern. – Bella Italia
Und als es im November bei uns kalt und neblig war habe ich mich am ersten Tag nach der Öffnung des Portals wieder angemeldet. Jetzt kann ich im kalten Frühjahrstraining von der Fahrt beim 9Colli 2012 träumen.